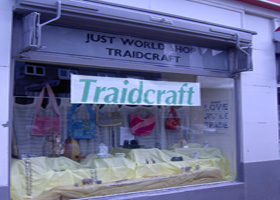 THE JUST WORLD SHOP
Visiting Edinburgh supports Fair Trade and the Make Poverty History Campaigns.


Just World Shop
54 Portobello High Street
Edinburgh EH 15 1DA
0131 669 8819





The Just World Shop is a fairtrade shop selling goods purchased from our partners in the developing world. Its aim is to aleviate poverty through trade. It does this by giving the suppliers a fair price for their products thus enabling them to provide health and education for their families and build their way out of poverty
The shop was established in 1991 and is run by a group of volunteers drawn mainly from the surrounding churches. Its object is to raise public awareness to the scandal of world poverty, which sees 30,000 people die each day in Africa alone.
The turnover for the shop recently was £73,000. This has doubled in the last four years. indicating a growing awareness amonst the general public of the concept of fairtrade as the most effective way of tackling world poverty.
The latest venture by the shop is to go out to schools and colleges to spread the message amongst the next generation who we are convinced will indeed make poverty history.
Opening times Mon -Friday 10 a.m-12 p.m2-4 p.m
Opening times Saturday 10 a.m -12 p.m




A wide range of goods are available at the Just World Shop including Cooking Ware and Fair Trade Teas and Coffees from around the world and a wide selection of Jewellery and Crafts.

Fair Trade Cafe
Edinburgh has a number of Fair Trade Cafes, Bars and Restaurants.
Always Sunday High Street
Bean Scene Holyrood Road
Belstane Cafe High Street
Cafe @ 68 Shandwick Place
Cafe Camino Broughton Street
Cafe Knight Bridge Road Colinton
Cafe Royal West Register Street
Coffee Chapel Street
Cuba Norte Morrison Street
Elephant House George IV Bridge
Forest Cafe Bristo Place
Hendersons Hannover Street

Fair Trade Cafe
The following is a further selection of Edinburghs Fair Trade Cafes, Bars and Restaurants.
Ndebele Home Street
Olive Tree Shandwick Place
Sala Cafe Broughton Street
Sandwich Stack Earl Grey Street
Bongo Club Holyrood Road
The Honey Pot George IV Bridge
The Lot Cafe Grassmarket
1924 Cafe Morningside Road
Undercroft Cafe George Street
Urban Angel Hannover Street
Victor Hugo Melvile Terrace


Fair Trade On line Epona www.eponasport.com
Tearfund www.tearfund.org
Traidcraft www.traidcraft.co.uk
Hug www.hug.co.uk
Trade Plus Aid www.tradeplusaid.com

Fair Trade WholesalersEqual Exchange 10 Queensferry Street Edinburgh0131 220 3848
Edinburgh Tea & Coffee 214 Sir Harry Lauder Road Edinburgh 0131 669 9222
Scottish Beverage Services 5 Dalmahoy Road Ratho 0131 3331129


Edinburgh Fair Trade Hotels and ApartamentsGlenmora Hotel
14 Roseberyh Crescent EH12 5JY
Tel 0131 1186
The Edinburgh Apartment
5 Bath Street EH15 1 EZ
Tel 0131 669 3159
Both these establisments offer Fair Trade or organic breakfasts and Fair Trade teas coffees and other drinks.

Other Fair Trade Shops
Hadeel Palestinian Shop
Shandwick Place Tue -Sat 10.30 - 4.00
0131 225 1922
One World Shop
St Johns Church Princess Street
0131 229 4541 Mon-Sat 10.00-5.30